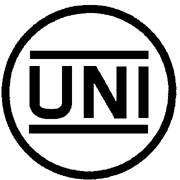 The building sector is nowadays increasingly focused on product quality assurance in terms of expected performance and durability. The UNI Trademark is a quality mark that, by means of periodic testing and monitoring of processes and finished products, guarantees the conformity of a product to the reference technical standards.
For the glass sector, the trademark has existed in Italy since 1996, and is owned by UNI, the Italian Unification Body; its issuing is controlled by the Notified Certification Body CSICert (csi-spa.com).
SSV is the exclusive licensee for the execution of on-site plant inspections and for the realization of the laboratory tests detailed in the special rules for the issuing of the UNI Trademark on insulating glass, heat-treated glass, and laminated safety glass.
The glass products that are awarded the UNI Trademark have superior characteristics in terms of expected performance and durability, and offer the highest quality standards in the national market.