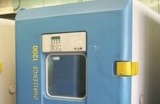 The durability of the performance of an insulating glass unit over time is determined through the execution of accelerated ageing cycles, which simulate temperature and humidity variations that can occur throughout the product's service life.
SSV is equipped with several climatic chambers of various sizes, capable of reproducing severe environmental conditions in a temperature range from -40°C to +120°C, with controlled relative humidity between 5 – 95%.
These instruments comply with the requirements of the EN 1279 standard for insulating glass units, and can also allow tailored ageing cycles to be carried out according to the customer's needs.