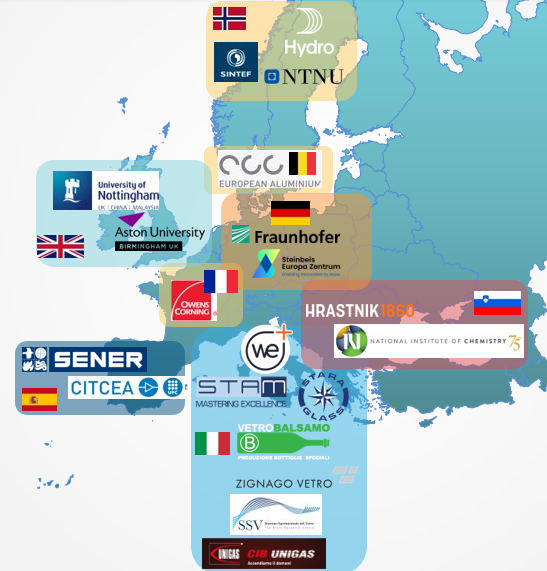 Given the committment of the European Union to a climate-neutral future, the glass industry, like all other industrial sectors, will have to be completely decarbonised by 2050. Therefore, a great effort is being put at present by many actors of the industrial chain to research new technologies and improve existing ones to allow the glass industry to achieve net-zero CO2 emissions within the next 30 years.
Among the potential solutions for a carbon-leaner production process is the use of green or blue Hydrogen as fuel for glass melting furnaces, which represent by far the most important "source" of GHG emissions within a glass manufacturing plant (especially in the container and flat glass sectors).
In fact, the study of the technical and practical feasibility of replacing present fossil energy vectors (natural gas, oil, coal, etc) with hydrogen is indeed a big trend in ALL energy-intensive industries and sectors featuring hard to abate GHG emissions, with many challenges and questions around hydrogen generation, distribution infrastructure readiness, economic viability, safe handling at industrial sites and potential impact on existing processes and products.
In this framework, Stazione Sperimentale del Vetro, together with a consortium of 23 partners from 8 different member states led by SINTEF, is proud to present the Horizon Europe project H2GLASS, specifically addressing the challenge of decarbonising the Glass industry by means of Hydrogen combustion: the 4 years project, having 33 M€ budget, was awarded funding for 24 M€ at the end of July 2022, and has started the Grant Agreement process; the plan is to kick-off research activities in January 2023.
H2GLASS aims to create the technology stack that glass manufacturers need in order to implement 100% H2 combustion in their production facilities, while ensuring the required product quality, respect of emission limits and operation in safe conditions.
The expertise of partners such as Steklarna Hrastnik, PTML Pilkington, Owens Corning and Stara Glass, representing the State Of The Art in the use of H2 in the glass sector will be an asset for the H2GLASS Consortium, complemented by a group of highly qualified industrial and research institutions (SINTEF Energy, SINTEF Industry, SINTEF Manufacturing, STAM, Steinbeis Innovation, We Plus, NTNU, The University of Nottingham, Kemijski Institut, Fraunhofer, Aston University, Universitat Politecnica de Catalunya, Stazione Sperimentale del Vetro, SENER, CIB UNIGAS) and other important Glass manufacturers that want to stay at the forefront of sustainable technology (Vetrobalsamo, Zignago Vetro).
For more information on the project, on its several industrial demonstrators and its replication and transfer to the Aluminum industry, or on the support already expressed to it by many stakeholders and industrial Associations, please visit the following link: